juice soft drink colored overlay drinking glass cup and coaster
Views: 8 Author: Site Editor Publish Time: 2018-09-19 Origin: Site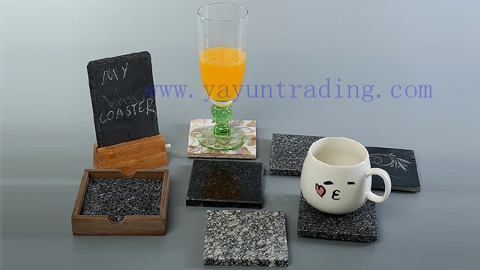 juice soft drink colored overlay drinking glass cup and coaster
China handmade embossed glass tea cup.

Can me used for green tea,black tea or shot wine glass,Japanese sake cup.
Through the combination of natural slate stone items with resin crafts,we want to show you a modern natural beauty of our trendy lifestyle home decoration items.
http://www.yayuntrading.com/seasonal-promotional-vogue-slate-angel-crafts-pd6565228.html

we have our own quarry mining slate and our own factory process slate,any size and shape slate products can customize according to your requirement.Differnent style slate coasters are as followings:
can customize all kinds of shape and size slate coasters accoring to your requirement
1.According with food safe certificate and International standard
2. Handcrafted from top quality slate or ceramic or glass
3. Shapes of slate : round,square, rectangle
4. A variety of sizes, shapes, packings for your choice
5. Each set is presented in a stylish presentation box
6. ldeal for any table or for the perfect gift
7.Also widely used by resistance,hotel and chefs
8.Durable Type:Resistance to acid and pollutants
9:Easy to keep clean: To clean slate,simply wipe over with a damp cloth or wash with the dish-washing machine if desired,natural oil may be rubbed on the surface of your slate in the future to enhance its natural contours.
Usage: It's widely in tableware and kitchenware .

Used as Tablemat / Coaster / Plate / Dish / Cheese Board / Sushi Set / Cake Stand / Placemat / Serving Tray /Worktop Saver /Table Runner / Table decoration / Gift Packs and so on.
Use Precaution:
1.They are not appropriate for a use for the dishwasher and microware ovens;
2. Prior to the first use, we advise to wash carefully the product with dishes washing liquid and a sponge, then rinse and wipe it ;
3.Do not use any aggressive cleaning materials, neither an abrasive sponge to avoid damaging the product. Some foodstuffs may stain ;
4.This dinner plate was made with great care and hand-crafted, therefore, some defects maybe found ;
We have various sizes and shapes for your choice .
We can also make the shape and size for what you image !
Besides slate table and kitchenware,slate crafts are also within our business range.We conbine the natural beauty of slate,porcelain and so on together to create an eco-friendly art pieces.Pls enjoy the following pics.